Some Identities Involving the Generalized Lucas Numbers
Mansi S. Shah

Department of Mathematics, Veer Narmad South Gujarat University, Surat, Gujarat-395007, India

Devbhadra V. Shah

Department of Mathematics, Veer Narmad South Gujarat University, Surat, Gujarat-395007, India
Keywords:
Fibonacci numbers, Lucas numbers, Generalized Lucas sequence
Abstract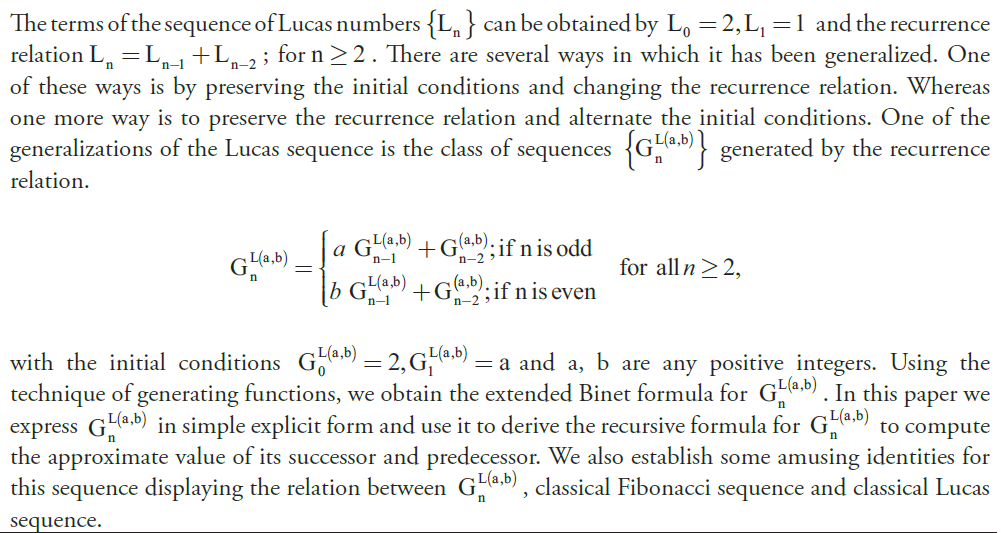 Downloads
Download data is not yet available.
References
Bacani, J.B., Robago, J.F.T.: On Generalized Fibonacci Numbers. Applied Mathematical Sciences 9(73), 3611–3622, (2015). https://doi.org/10.12988/ams.2015.5299 DOI: https://doi.org/10.12988/ams.2015.5299
Bolat, C., Ipek, A., Kose, H.: On the sequence related to Lucas numbers and its properties, Mathematica Aeterna 2(1), 63–75 (2012).
Falcon S.: Generalized (k, r) – Fibonacci Numbers. Gen. Math. Notes, 25(2), 148–158 (2014).
Gupta, V.K., Panwar, Y.K., Sikkhwat, O.: Generalized Fibonacci Sequences, Theoretical Mathematics and Applications 2(2), 115–124 (2012).
Kaygisiz, K., Şahin, A.: New Generalization of Lucas Numbers. Gen. Maths. Notes, 10(1), 63–77 (2012).
Shah, M.S., Shah, D.V.: A New Class of generalized Lucas Sequence. International Journal of Advanced Research in Engineering, Science and Management, 1–7 (2015).
How to Cite
Mansi S. Shah, Mansi S. Shah, and Devbhadra V. Shah Devbhadra V. Shah. 2020. "Some Identities Involving the Generalized Lucas Numbers". Mathematical Journal of Interdisciplinary Sciences 9 (1), 11-15. https://doi.org/10.15415/mjis.2020.91002.
Copyright (c) 2020 Mansi S. Shah and Devbhadra V. Shah
This work is licensed under a Creative Commons Attribution 4.0 International License.